Welcome to Angel City Soul Food Deli.

Thanks for visiting our web page. Mother's Day is right around the corner and we have a beautiful brunch available to you for pre order through Thursday May 6th for pick up or delivery on or before Saturday May 8th. We will be closed on Mother's Day Sunday 5/9.
Pre Order Mother's Day Brunch Catering
A beautifully curated menu of fresh flavors and delicious brunch as a gift for mom or a treat for yourself. Enjoy 4-6 Servings of Wings and Waffle Platter, Fruit & Berry Platter, Your choice of Chicken, Shrimp or Veggie Fettuccini, Garden Salad and Dressing, 1/2 Dozen Bread Basket, Pound Cake or Cobbler and Quart Container of Momosa, or Sweet Strawberry Wine.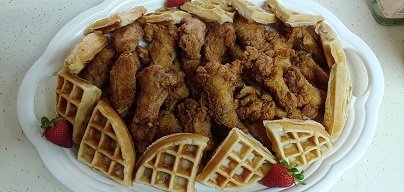 Golden Fried Party Wings and Waffles arranges on a reheatable platter. Served with butter and syrup.
+ ORDER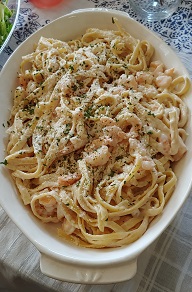 The creamiest full flavor Fettuccini Alfredo with your choice of Chicken, Shrimp or Veggie
+ ORDER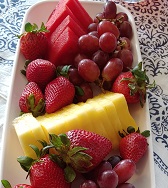 A Beautiful arrangement of assorted fruits and berries.
+ ORDER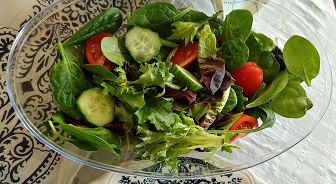 A fresh salad bowl of mixed greens, english cucumbers, grape tomatoes and other veggies, served with salad dressing on the side.
+ ORDER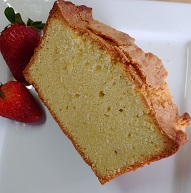 Sweet for Mom!
Authentic pound cake with a butter top crust to enjoy.
+ ORDER
Sweet for Mom! Delicious Southern style peach cobbler bubbling with sweet peaches and crust.
+ ORDER
Enjoy delicious citrus and sweet ginger flavors with champagne. Quart Size $10
+ ORDER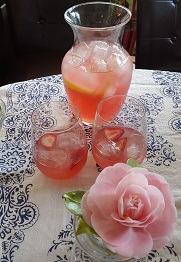 Enjoy this refreshing strawberry blush and white wine
Quart Size $10
+ ORDER